WELCOME!
Welcome to the website for Christ the Redeemer Lutheran Church and Preschool in Brecksville, Ohio! A member of the Evangelical Lutheran Church in America (ELCA), our congregation's mission is to engage people in the ministries of worship, learning, witness and service that the Word of God in Jesus Christ may transform their lives. CRLC is a congregation that draws people to the transforming love of Christ through opportunities for diverse worship and learning, spiritual growth, personal stewardship and service to the community and the world.
CRLC Members please sign in to access Weekly & Monthly Inisghts, Pictures of Events.
WORSHIP SCHEDULE


WORSHIP WITH HOLY COMMUNION

9:15-11:30a.m.

Our Children's Room is open during Sunday School & the 10:30am service.
9:15 a.m.


Sunday School for All Ages


10:30 am

WORSHIP WITH HOLY COMMUNION

Holy Communion is available to those who are homebound, ill, or otherwise unable to attend regular worship services. Available by contacting the church office to schedule. 440-526-2303 or office@crlcbrecksville.org
Sunday, February 8 at 8:00 or 10:30 AM
We, as Lutherans, do believe in the power of God's healing in our lives. As our ELW explains regarding the Rite for Healing, "Here all who sense the need for God's healing in any aspect of their lives may join in prayer for others and themselves. Here each person may come to receive a word of blessing and prayer. Here each one may also receive a physical gesture of healing: the laying on of hands, which may be accompanied by anointing with oil. These signs, first given in baptism, tell us again that we are sealed by the Holy Spirit and marked forever with the cross of Christ, who is health and salvation for the whole world…. In its ministry of healing, the church does not replace the gifts of God that come through the scientific community nor does it promise a cure. Rather, the church offers and celebrates gifts such as these: God's presence with strength and comfort in time of suffering, God's promise of wholeness and peace, and God's love embodied in the community of faith."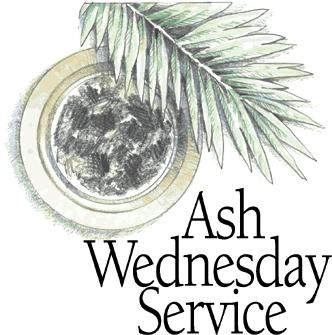 Join us Wednesday Feb 18 at 7:00 PM
for Imposition of Ashes and Worship
Congratulations Kaley!
Kaley O'Donnell, Pastor Randy's daughter, is currently serving in the YAGM (Young Adults in Global Mission) program of the Evangelical Lutheran Church in America (ELCA) in the United Kingdom in Streatham, a suburb of London. She began her term in August 2014 and will serve in the mission field for one year. (Marikka Pretz-Anderson and Jackie Schuhle also participated in this ministry.) You can follow Kaley on her blog at http://teacupsandtestament.blogspot.com/

Click here to read Kaley's most recent newsletter.